Support and Partnership is more than words!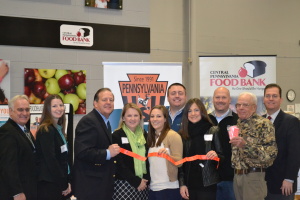 A host of statewide energy industry representatives, who are HSH financial sponsors, and who attended the HSH Annual Kick off Press Event at the Central PA Food Bank in Harrisburg, PA on November 25. Due to the overwhelming support of the industry, the PA Game Commission and PA Dept. of Agriculture the $15 co-pay was eliminated this year for all deer donations. An informal delicious lunch was provided courtesy of JDK Catering Group who has been a business sponsor of HSH for many years. There were over 70 people in attendance as well as media coverage by ABC, NBC and FOX news affiliates.
Thank you to all who share our mission to help feed the hungry with donated venison.
From left, George Greig, PA Secretary of Agriculture; Heather Sweitzer, Dawood Engineering; Dave Spigelmyer, Marcellus Shale Coalition; Daria Fish, Chief O&G; Alyson Joyce, Seneca Resources; Bill des Rosiers, Cabot O&G; Michelle Leslie, Range Resources; Mike Narcavage, Southwestern Energy; John Plowman, Hunters Sharing the Harvest; Jim Rodgers, Dawood Engineering.