Hunters Sharing the Harvest notes expanding hunger fight
Hunters Sharing the Harvest notes expanding hunger fight
At one of the last such events likely to happen for weeks, hunters, U.S. Senate staff, the state Secretary of Agriculture, and a Pittsburgh Steeler gathered to laud a successful season fighting hunger in Pennsylvania with venison. Hunters Sharing the Harvest (HSH) convened the fete March 12 at the Collier Sportsmen's Association in Oakdale, suburban Pittsburgh. Since 1991, HSH has channeled more than 1.5 million pounds of deer meat, donated by Pennsylvania hunters, to food banks, soup kitchens, and churches for distribution to those in need.
John Plowman, HSH executive director, said donations during the 2019-20 hunting seasons had surpassed 100,000 pounds, and that breaking the record of 150,000 pounds set one year earlier remains possible. "As of today, our program has reached 118,000 pounds of venison donated," Plowman said. "But we still have about 30 butchers around the state who have not yet completed their paperwork and submitted their vouchers, so this total will go higher."
Hunters who decide to donate a deer take it to one of 127 certified butchers participating in the HSH program. There is no fee to the hunter because generous HSH-supporter businesses, agencies, and individual donors have already paid the butchers' processing fees through program sponsorship. Butchers grind all donated venison into burger because it is the most versatile way to use the meat, and food bank personnel pick it up for distribution to people who need it.
"Before Hunters Sharing the Harvest reached this scale of effectiveness, we were often getting a lot of things like cookies and sugar-coated cereals donated to us. We wanted to move to more nutritious offerings, but lean red meat is expensive for programs like ours," said Sheila Christopher, executive director of Hunger Free PA, an organization of community food banks. "Please keep us in your thoughts so we can continue to provide nutritious protein to people who would otherwise seldom have it."
"What we are doing with Hunters Sharing the Harvest in Pennsylvania is not normal, it's extraordinary," said Pennsylvania Dept. of Agriculture Secretary Russell Redding. "It's troubling that we live in a state of such abundance, yet we have 10 percent of our population that struggles for food. To see the overwhelming response by Pennsylvania's outdoorsmen and Hunters Sharing the Harvest supporters is personally and professionally gratifying."
The state Department of Agriculture is one of HSH's biggest supporters. Secretary Redding announced a 5-year plan of sponsorship for HSH from his department, totaling $145,000. Plowman noted the consistent support of private companies, many of which are part of the state's energy production sector. He thanked EQT Foundation, Seneca Resources, FirstEnergy Foundation, Range Resources, and others, and displayed a placard recognizing more supporters. "None of this would be possible without the dedicated help of these companies," Plowman said. "Their generosity complements that of hunters who ultimately provide the food from a natural and renewable resource."
Deer-meat donations to HSH once spiked in mid-December, during the state's regular deer season, but Plowman noted that the period of donations has lengthened in recent years because of the growth in archery hunting. "Bowhunters have really taken an interest in us," he said. "And the archery season is so long, stretching from September to January, that it results in a longer donation span, and more efficient distribution of the meat." Those in attendance were eager to hear from a man Plowman described as a "great shot and frequent donor of deer meat," retired Pittsburgh Steeler, Brett Keisel. "I grew up in Wyoming eating deer meat," Keisel said. "When I got drafted by Pittsburgh, I didn't know what to expect. But then I saw how easy it was to get out into the woods and mountains around here, and that lots of people hunt. I knew Pittsburgh was a perfect fit for me, and that's why I still live here. "I believe in this program," he continued. "What I'm most proud of is that all of you don't even know the people you are helping through Hunters Sharing the Harvest, but you make it possible for them to get through another day."
For more information on Hunters Sharing the Harvest, participating butchers, sponsors, and how to get involved visit www.sharedeer.org.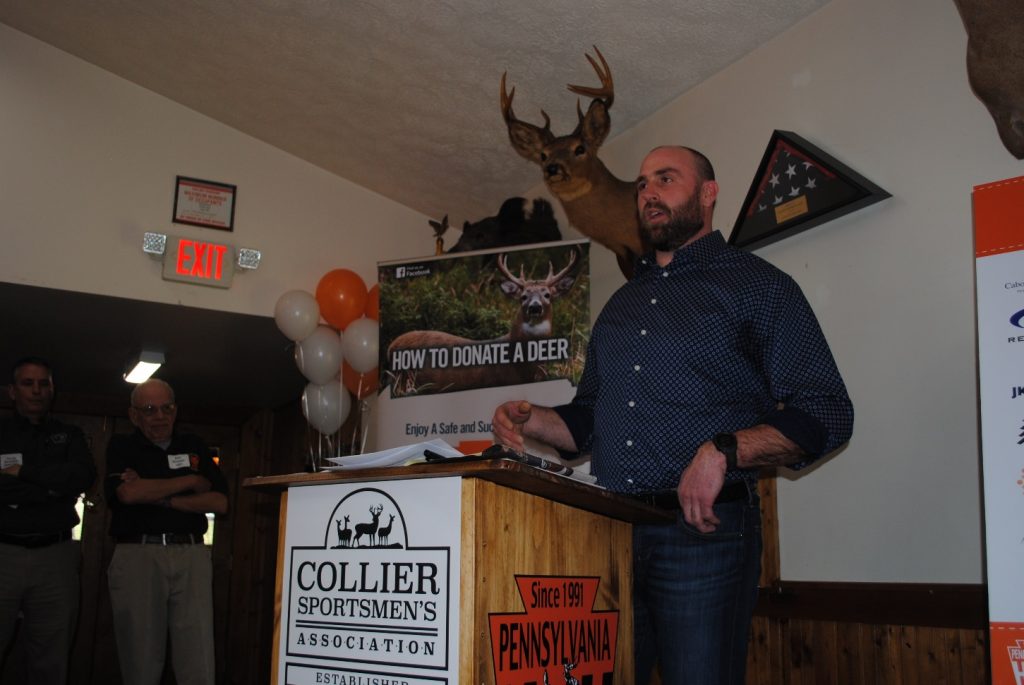 Photo caption:
At a gathering prior to virus containment measures, retired Pittsburgh Steeler Brett Keisel thanks Hunters Sharing the Harvest supporters for their efforts on behalf of Pennsylvanians in need of food. Keisel often donates deer to the program.
Photo by Ben Moyer