Chevron fights hunger in Greene County, donates $2,000 to HSH
Chevron fights hunger in Greene County, donates $2,000 to Hunters Sharing the Harvest
Carmichaels, PA—Hunters Sharing the Harvest (HSH) announced today the receipt of a $2,000 grant from Chevron to support the distribution of hunter-donated venison to needy families in Greene County. Chevron has been a leading producer of natural gas in the Appalachian Basin.
Chevron representatives presented the check to HSH in a ceremony at the Hungarian Smokehouse in Carmichaels.
"This donation continues our broader partnership with the food bank here in Greene County," said Brent Robinson, Chevron corporate affairs adviser. "Our employees volunteer their time working at the food bank, so this monetary contribution to Hunters Sharing the Harvest, which provides nutritious protein to the needy, supports that commitment to assist the community."
Chevron's grant will be used to pay butchers' fees for processing deer donated to the program by hunters. HSH-certified butchers prepare all the venison as ground burger for distribution to those needing food assistance through food banks, local soup kitchens, churches and other community food assistance organizations.
"Chevron's support of the Hunters Sharing the Harvest program is an unbelievable help in our mission," said Jessica Cole, operations manager with the Corner Cupboard food bank in Waynesburg. "Otherwise, meat is expensive and hard to come by for programs like ours. We look forward to the hunting season each year for the boost in high-quality protein it provides."
Joel Peckar, Hungarian Smokehouse co-owner, said hunters are donating more deer each year. "When we first got affiliated with HSH, we'd take in less than 20 dear each season," Peckar said. "This year, they're still coming in because of the extended season in the special-regulation zone around Allegheny County, but we will finish somewhere over 80 deer donated, processed and then delivered to the food bank in Waynesburg."
John Plowman, HSH executive director, said Chevron's donation would process about 3,200 venison meals. "Support like that provided by Chevron makes it easier than ever for hunters to help their neighbors in need," Plowman said. "Hunters need only drop off a deer at a participating HSH meat processor and fill out a donation form. There is no charge to the hunter for donating a deer, thanks to the support of Chevron and other HSH sponsors."
Hunters Sharing the Harvest, in cooperation with generous hunters, participating butchers and program sponsors, has channeled nutritious ground venison to Pennsylvanians in need of food assistance since 1991. In the average hunting season, HSH distributes over 100,000 pounds of ground burger through 20 regional food banks and over 5,000 local provider charities statewide.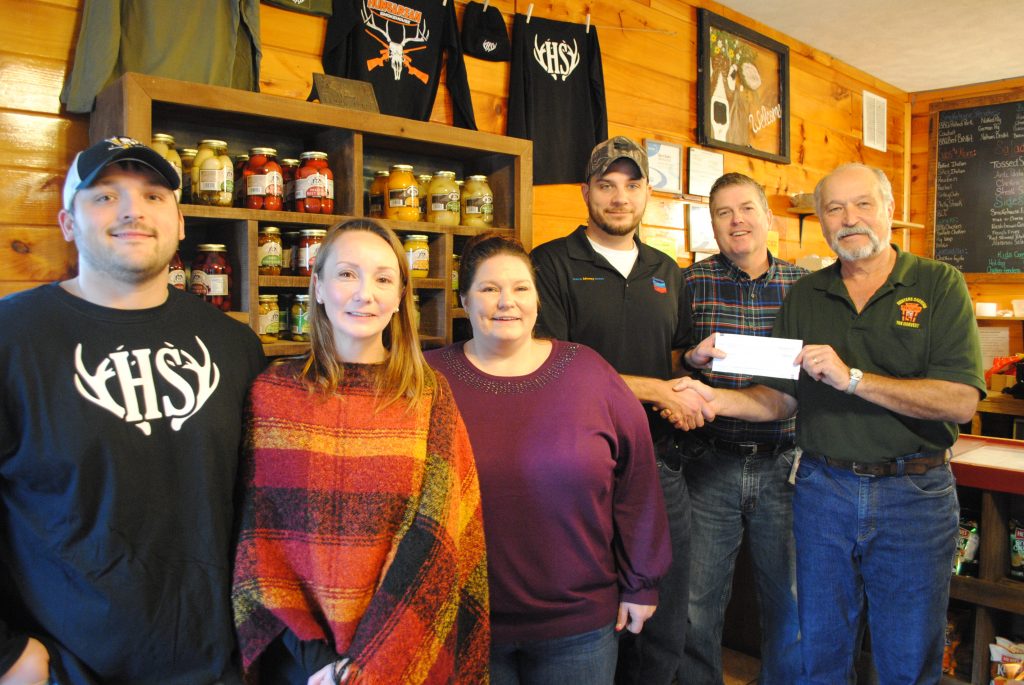 Chevron presents a check for $2,000.00 to Hunters Sharing the Harvest to support venison distribution to food-challenged people in Greene County. Present at the ceremony at Hungarian Smokehouse in Carmichaels were: (from left) Joel Peckar, co-owner, Hungarian Smokehouse; Candace Webster, executive director, Corner Cupboard food bank in Waynesburg; Jessica Cole, operations manager, Corner Cupboard food bank; Nick Staffieri, environmental affairs adviser, Chevron; Brent Robinson, corporate affairs adviser, Chevron; Ben Moyer, Hunters Sharing the Harvest volunteer coordinator, Greene and Fayette counties.